STARTER KIT
Ready. Scent. Go!
The starter pack contains everything you need to introduce your pet to the exciting world of Schnuzzle.
Designed for all canine breeds and ages, our durable and interactive tennis ball size ball holds and emits long-lasting zero mess, changeable scents that are only detectable by pets. From the couch to the back seat of the car, you now have the power to engage your best friend like never before. It's Netflix for their nose.
What do you get?
Schnuzzle ball
Slobber-proof carry bag to easily take your Schnuzzle everywhere you go.
6 scentertaining scent discs to excite and captivate your pet.
Includes FREE shipping
Pre-order now for December delivery
Pre-order now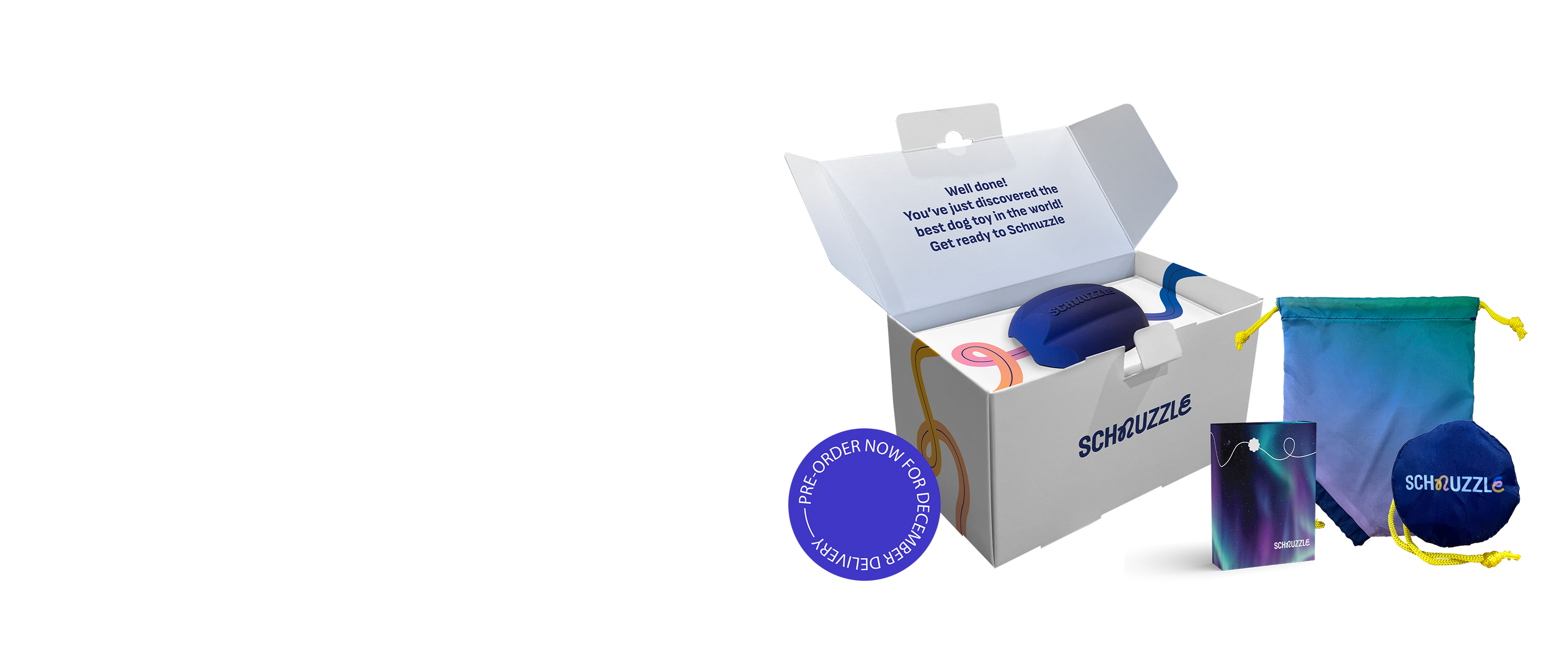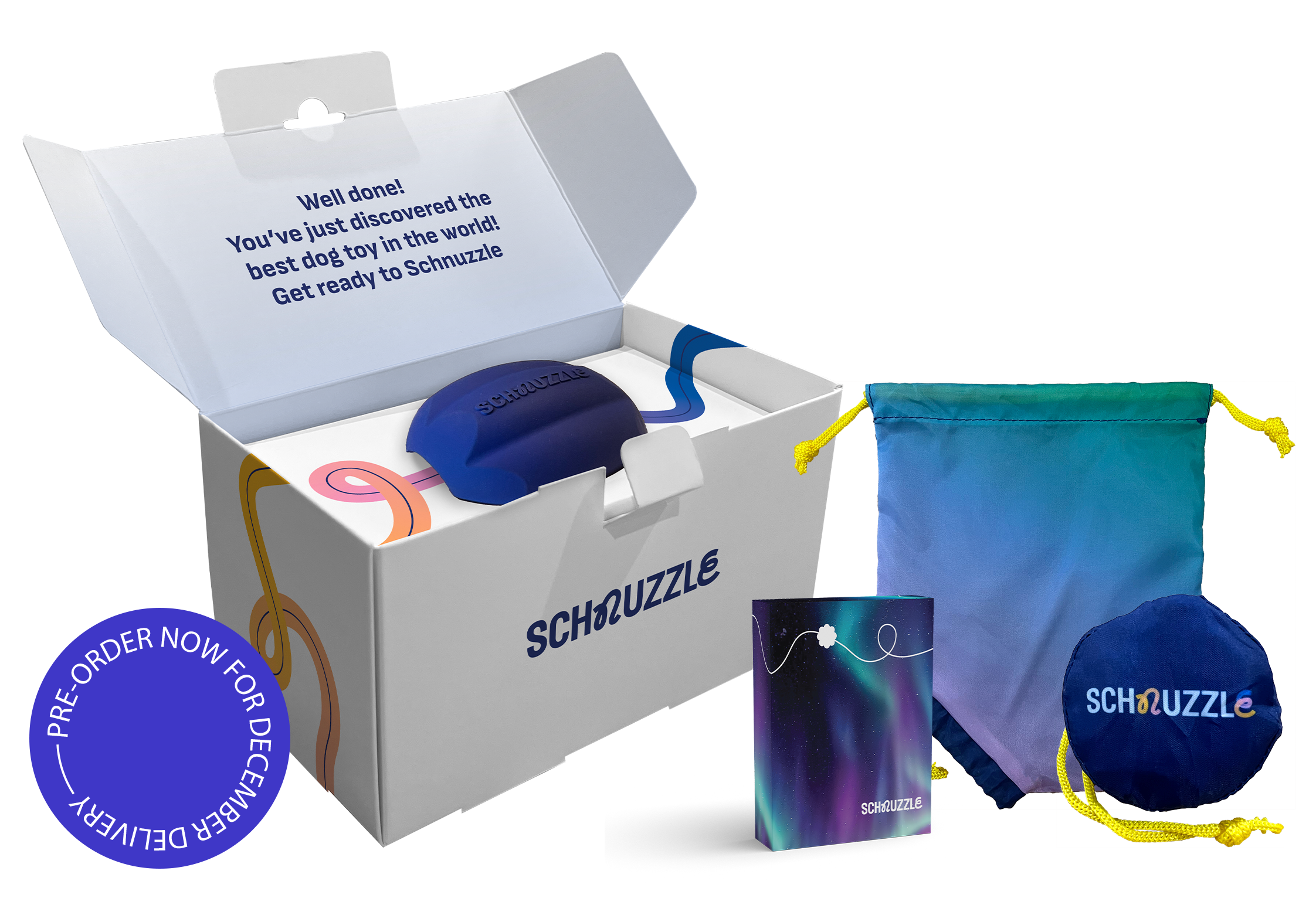 What's in the box?
The starter kit consists of
1 x Schnuzzle
1 x slobber proof carry bag
1 x box of 6 individually wrapped, unique and exciting scent disks.
Schnuzzle ball
Your 'Schnuzzle' is a durable, pet and child-friendly ball made from toxin-free, natural rubber.
The Carry Pouch
Schnuzzle is too much fun to leave at home. Our slobber proof carry pouch lets you take Schnuzzle and scent discs with you everywhere. Durable and machine washable.
Theme Pack
1 x box of 6 individually wrapped, unique and exciting scent discs.
Netflix for the nose. Find that scent of adventure.
SCENT BOX
A scent for every nose.
Smells like… 
For your dog, Scent is more than just smells, it's how they see the world.
Our unique, multi-layered scent combinations are like nothing your pet has experienced.
Imagine hearing music for the first time or watching a great movie. That is what your pet will experience with our scents when they play with Schnuzzle. 
What do you get?
Storage box
12 scent discs
Includes FREE shipping
Pre-order now for December delivery
Pre-order now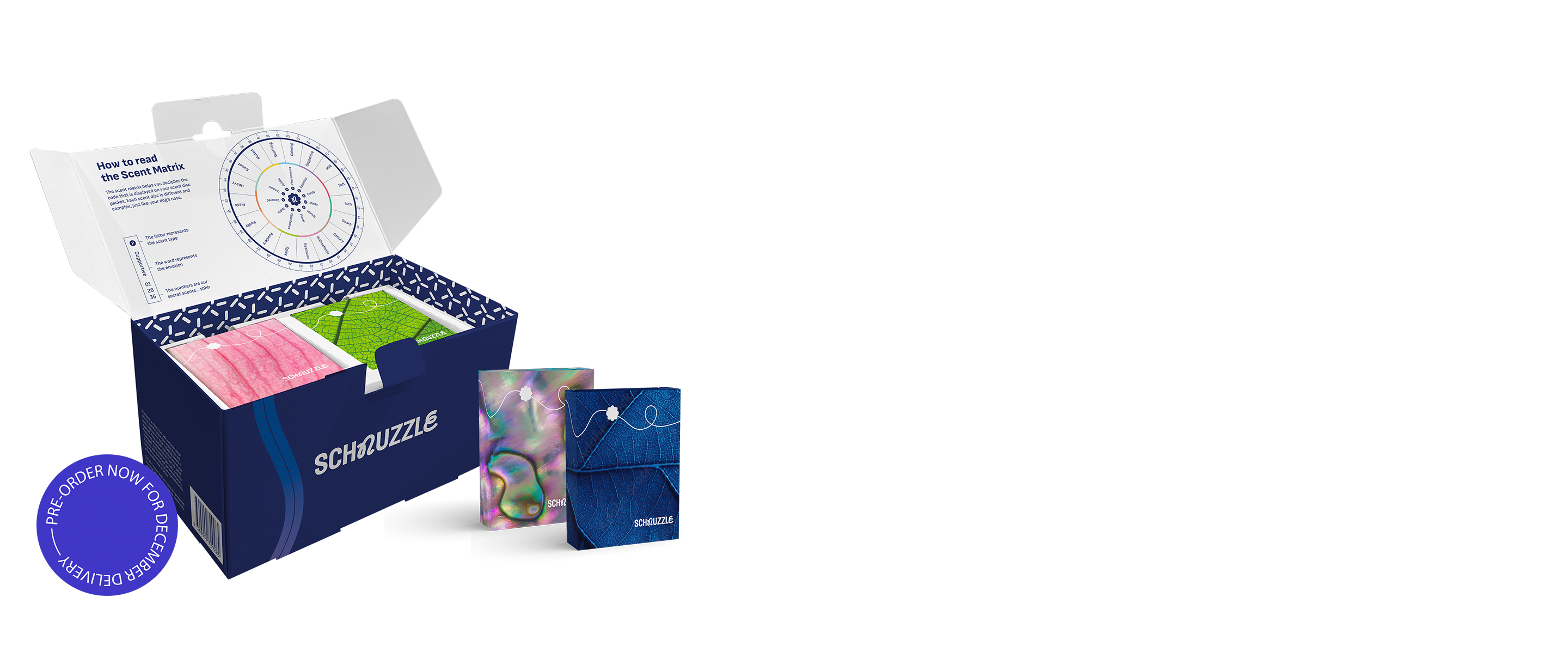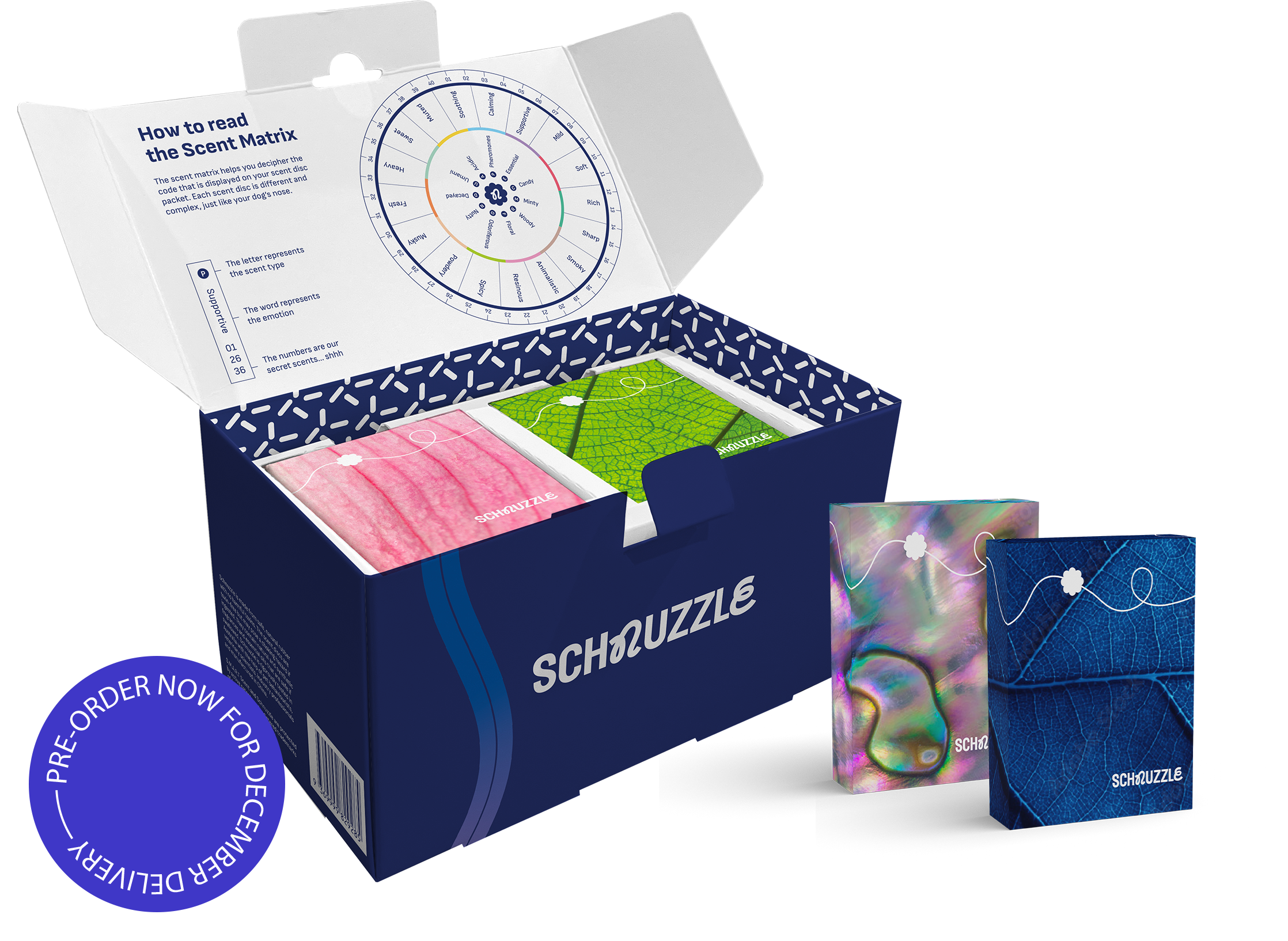 What's in the box?
Each scent box contains a handcrafted selection of 6 unique and exciting scent discs, individually packaged for freshness. Zero mess, zero calories. 100% Scentertainment!
Packaged for freshness
Schnuzzle scent discs are individually packaged for freshness. The microencapsulated surface is activated when inserted into your Schnuzzle or scratched. Each disc is designed to last for 7 days of play once inserted into the ball, but changing them regularly is the key to a happier healthier pet.
Layers of scent
Each disc contains a multilayered recipe of extraordinary scents, prepared by our 'chef de scentes'. Go on, give it a scratch, what you can smell is only a fraction of the scents your dog will discover. The scent combination is listed on each packet. Decipher each code using our scent wheel to better understand what your pet is experiencing.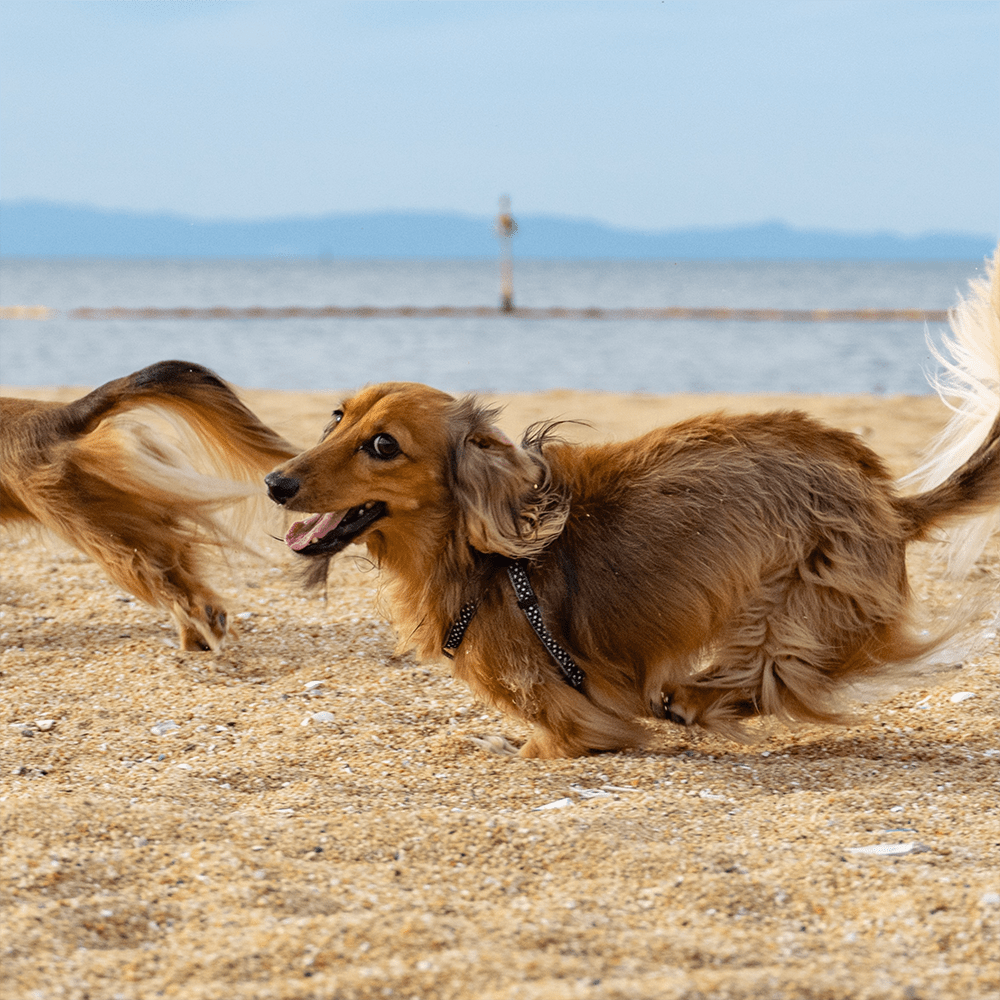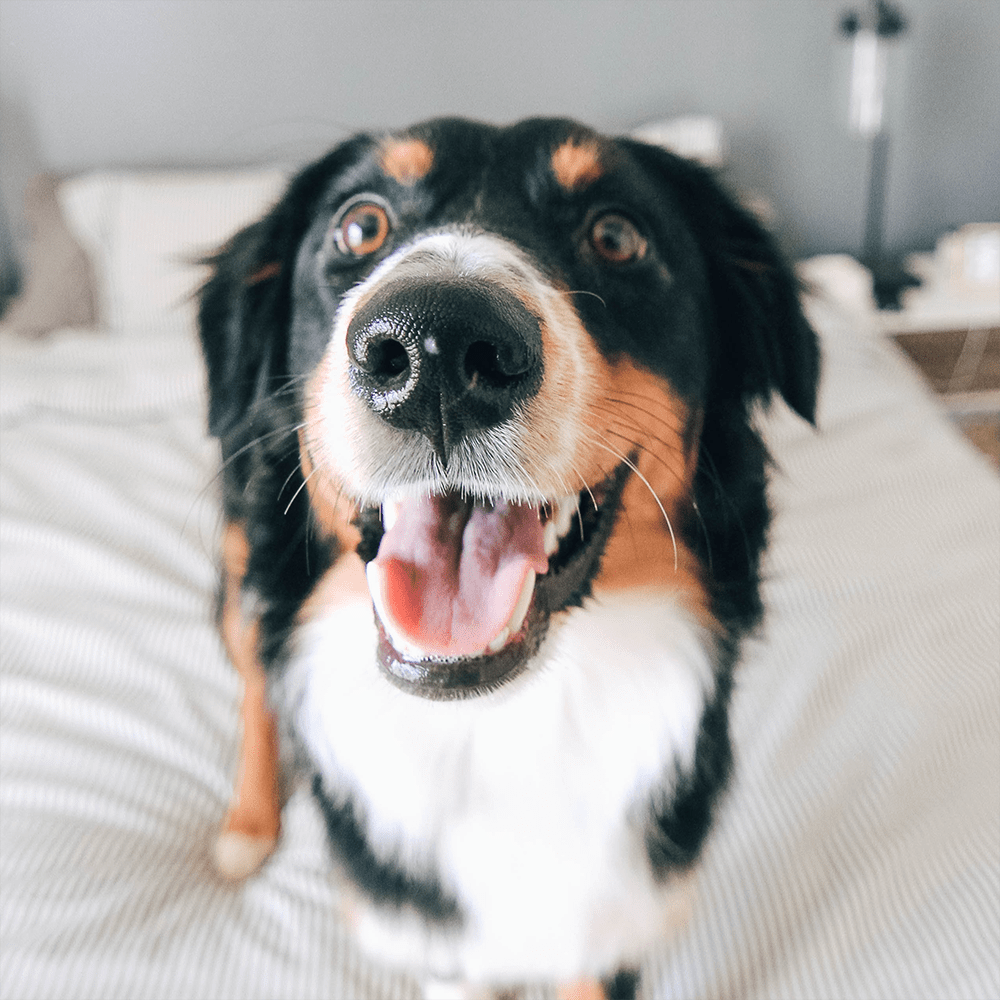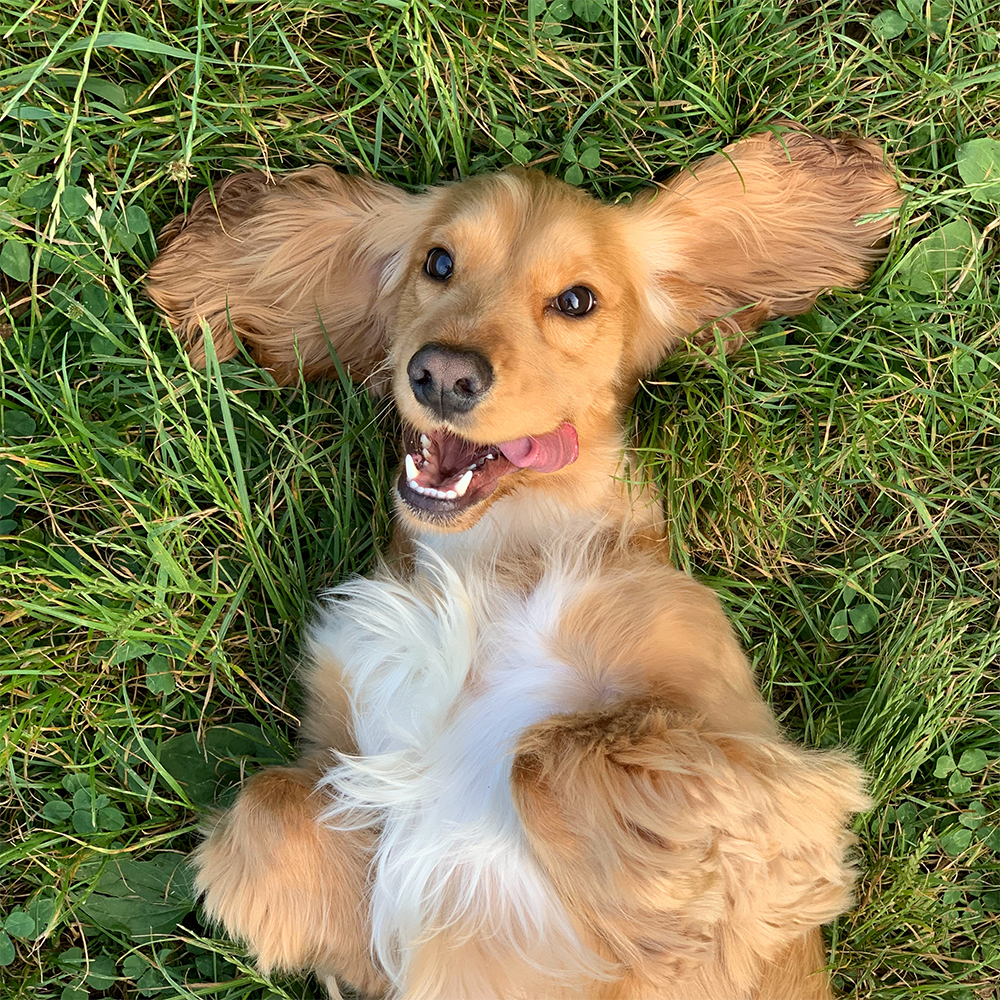 LET'S SCHNUZZLE
Take Rudi on an adventure.
Noses vary, but they all have one thing in common. They are your pets' super power. Whether intently sniffing a best friend, following a scent on an afternoon walk or digging into a delicious evening meal, your pet's sense of smell is more extraordinary than you will ever know. Schnuzzle has been designed in collaboration with vets, animal behaviourists and trainers, specifically to engage a dog's nose like no other pet toy can.
LET'S SCHNUZZLE
Doug can smell more than 10,000 times better than you.
Dogs devote lots of brain power to interpreting smells. It has been estimated that dogs can smell anywhere from 10,000 to 100,000 times better than people. On the other hand, a canine sense of taste is only around 20% of what we, as humans, can detect.
LET'S SCHNUZZLE
Tilly remembers more than you think.
Dogs have scent memories just like we do. People, places, other dogs, they all tie themselves to the scents around them and can be recalled. Our microencapsulated discs are designed to entice, excite, calm and entertain your pet with familiar, unusual and interesting combinations.
ABOUT US
We love that your dog has stuck it's nose in our business
Schnuzzle is not just any pet toy range; it's designed to be the ultimate choice for pets and the planet alike. With Schnuzzle, you get the pure essence of scent, minus the calories and mess. We're dedicated to offering pets and pet owners an unparalleled sensory experience, all while remaining environmentally conscious.
Welcome to the future of pet wellness – where scent takes center stage, and your pet's happiness is our top priority.